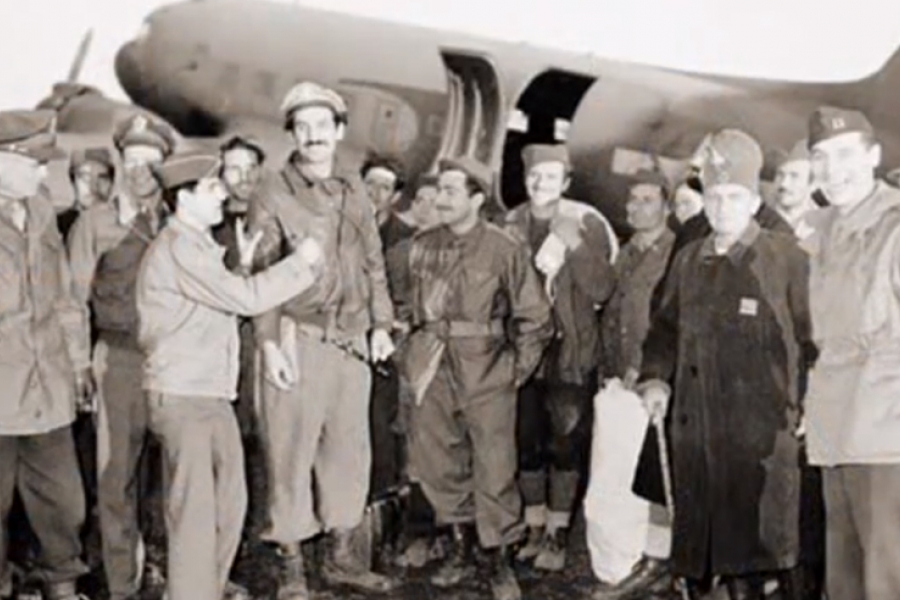 By attacking Poland in 1939. Nazi Germany has started the most destructive war in the history of mankind. Second World War has found Kingdom Yugoslavia unprepared and exhausted with internal problems. In such a constellation, under a rising pressure of Germany after Anschluss and occupation of Poland, Czechoslovakia and France, which has made alliance with all the neighbors of Yugoslavia, and Italy has put Albania under its protectorate, Prince Pavle, as a royal viceroy has signed on March 25, 1941. accession protocol of Yugoslavia to Tripartite Pact. However, this was not of long duration, already on March 27, a coup was organized, Prince Pavle was dismissed, and King Peter II proclaimed mature and general Dusan Simovic was selected as a president of government. This meant for Germany that Yugoslavia had to be defeated by military means. Soon, already on 6 April, Germany has started military operations by bombing Yugoslavia's capital and invading it by land from several directions. So-called "April War" lasted only for eleven days. Already on 17. April Kingdom of Yugoslavia has capitulated, and its territory divided among Axis powers.
However, capitulation did not mean the end of resistance towards occupier. On the whole territory of Yugoslavia, two anti-fascist movements have been created. First movement was formed by the members of royal army who have not recognized the capitulation. Led by colonel Dragoljub Mihailović, soldiers and officers who managed to escape capture, gathered on Ravna Gora mountain and organized guerilla resistance movement. Ravna Gora Movement, formally known as the Yugoslav Army in Homeland, has organized and participated in saving more than 500 allied pilots from occupied territory of Yugoslavia. Another resistance movement formed in Yugoslavia was National Liberation Movement under the leadership of Josip Broz.
At the end of 1943. Allied Forces started with bombarding targets in Romania, Bulgaria and Yugoslavia. Confronted with strong German air defense, many planes were shot down and pilots parachuted on the territory of occupied Yugoslavia. Main targets of bombing were oil fields in Ploieṣti, Romania. From October 1943, until October 1944 it was performed more than 20 thousand flies over Yugoslavia by Allied Forces. During the bombing actions, it inevitably happened clash between with German aviation and air defense, thus an increasing number of aircrafts were shot down, and crew left deeply behind the enemy lines, mostly under the territory controlled by the Royal Army.[1] First pilots were rescued on January 24, 1944. By Toplica Corps of the Yugoslav Royal Army in Homeland.[2] A plane has forcedly landed between two groups of Bulgarian armies, Chetniks (more commonly known members of the Royal Army) carried out an attack in order to rescue the pilots. All 9 crew members were rescued alive and healthy.[3] In upcoming months, during spring, more and more pilots were rescued from the German occupying forces. Before long, hundreds of rescued pilots by Chetniks of Draža Mihailović were waiting on evacuation from Yugoslavia. "Order of the general Mihailović to all units was that airplanes' crew must be rescued at all costs, regardless of casualties. Certainly, rescue actions were followed by clashes with German patrols sent to catch the pilots."[4] In hiding the pilots, Serbian villagers provided incommensurate assistance. Immediately after rescue, pilots were taken care of in the villagers' houses where they have taken off their uniforms and changed in local costumes in order to deceive the trail. They were hiding in houses, but also stables and attics for days and months, while villagers were sharing their last supplies of food with them. Locals have greeted the pilots with delight, and also not one case of betrayal was recorded even though villagers risked their own lives and retaliation of Germans.[5] Already in early spring, soldiers of the Royal Army were taking recued pilots from all over the country to territory under control of First Ravna Gora Corps, how they could gather all the rescued pilots in one place for a later easier evacuation.[6] Soon, it became apparent that a comprehensive evacuation plan of pilots is needed. Therefore, on June 28, 1944 the planning of the Halyard rescue mission was started. A rescue team with only one order was send by direct order of president Roosevelt, to successfully evacuate aviators.[7] For that purpose, building of improvised airport has started, how allied planes could land and take off to evacuate the pilots. The chosen location was not far away from the village Pranjani near Gornji Milanovac. Plateau known as Galovića field was recognized as suitable location for airport building. This task was assigned to reserve captain Nikola Verkić, an engineer. The airport was built in secret, mainly during the night. More than hundred villagers were digging and levelling the terrain with improvised tools and bullock cart, and on the rim of the runway bonfires were set on fire in order to light up the runway for night landings.[8] During the night on 25. July, after several failed attempts to find Mihailović's Chetniks on the ground, first plane flew over the airport, but did not land. Three parachuters descended from the sky. These were Captain George Musulin, Sergeant Michael Rajacich, and radio operator Arthur Jibilian, and their assignment was to execute further preparations and coordinate operation of evacuating the pilots from Yugoslavia.[9] All three of them spoke Serbian language and were of Yugoslav descent, which were the main reasons why they were selected to go in General Mihailović's headquarters. Among American officers who coordinated the Operation Halyard was also Major Richard Feldman. He was one of the pilots who were shot down during the return from Romania. Members of the Royal Army have founded and saved him from capturing by Nazi Germans. When Feldman came to Pranjanji he realized that the runway is too short for landing of the American transport airplane C-47. Hence, the runway must have been extended in order to meet the minimum length.[10]
First evacuation airplane was announced through radio connection for July 31, at 10 PM. However, according to testimony of Feldman who at the moment was in Pranjani, there was no plane. Only two hours later they heard plane engines in the distance, however they couldn't be sure if that's American rescue plane or German scout plane. Having that in mind, General Mihailović have decided not take a risk, and ordered his people not to light up the torches along the runway.[11]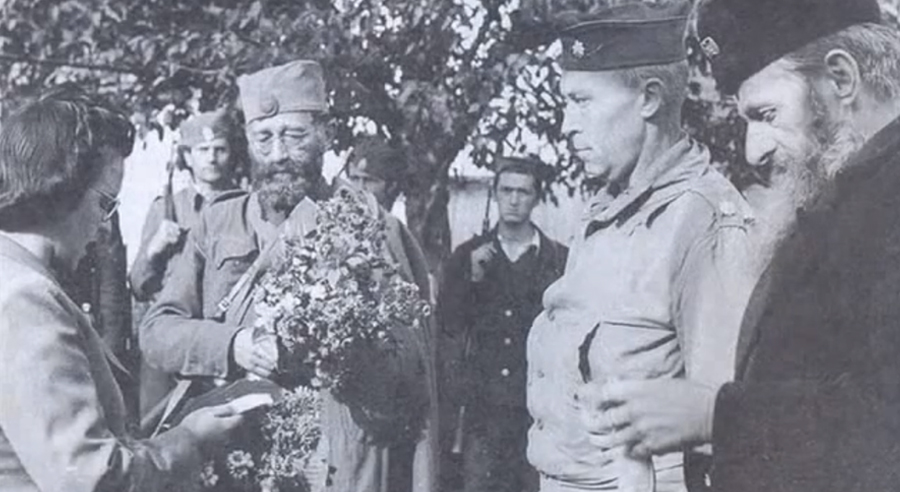 Officers Jibilian, Musulin, Feldman and Rajačić who coordinated the action, were concerned that Germans might found out about the mission. Only 20 km further, German garrison of 4500 men were stationed in Čačak, and second one was just 8 km from the spot with 2500 German soldiers. General Mihailović has informed Major Feldman that 8000 members of the Royal Army are guarding the airport, organized in two hoops. With barricades on all roads leading to the airport, Chetniks had the order to defend the airport in the case of German attack at the cost of their lives.[12] Major Feldman requested to visit Chetnik's defense lines how he could be assured in safeness of more than 200 American pilots present at the moment. General Mihailović held the muster of his units for the American officers.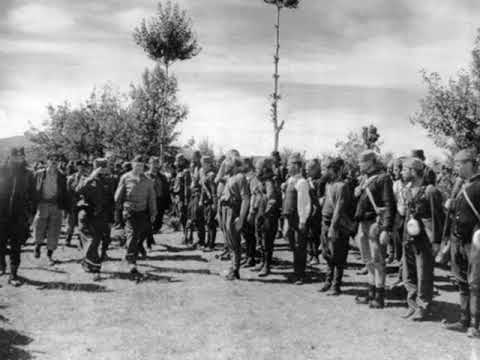 Finally, after several months' long preparations, officers Feldman and Musulin are sending coded message to allied air base in Bari that everything is ready for starting the mission "Halyard"! First six airplanes type C-47 which would evacuate 70 American pilots would land on August 9, at 10 PM on the airport on Galovića field. Everything was ready! The mission implied establishment of air-bridge between Bari and Pranjani with the aim of evacuation of pilots who were hided by locals.
In 10 PM four C-47 appeared above Pranjani. Lieutenant Musulin hold in his hand a lamp to signalize agreed code to the airplane crew by using Morse's code. They received answer from the airplane which was appropriate. Musulin and Feldman relieved, they we afraid of German planes. Torchers alongside the runway were lighted how they could make night landing possible. In that moment, only two airplanes landed, the other two went back due to the engine malfunction, and not all 70 pilots were able to be rescued that night. Feldman promised to 24 pilots that couldn't be rescued in the first wave that they will be evacuated next morning and has sent his report to the headquarters in Bari. Next morning, a deafening sound at 7 AM could be heard by a group of planes that were arriving to Pranjani. It was a sound of 6 C-47 accompanied by 25 fighter planes type P-51. Planes were landing in intervals of 5 minutes, boarding pilots and flying back to Bari. In interval of 2 hours it was evacuated 241 American, 6 Britts, 4 Frenchmen, 9 Italians, 7 Yugoslavians, and 12 Russians. During the night of August 9, and morning of August 10 it was evacuated 289 allied men in total. Air-bridge was successfully established behind the back of Germans who haven't noticed anything. In next days and weeks Chetnik units continued to gather in Pranjani allied soldiers and officers who were rescued, how they could be safely evacuated from there. At the end of August, on 26 and 27 of August, additionally 58 Americans and 2 British officers were evacuated from Pranjani together with Lieutenant Musulin. Total number of soldiers and crew rescued during the Halyard operation is 432 Americans and 80 members of allied forces crew.[13] More than 500 allies were saved and rescued from the airport in Pranjani. Afterwards Chetniks retreat from Pranjani and make two more improvised airports for evacuations. The first was built in mid-September near Koceljeva in Mačva region, from were around 20 American pilots were evacuated, few Italians and Frenchmen as well as two American medical officers.[14] Afterwards, the Command of Yugoslav Royal Army in the Homeland was moved in Eastern Bosnia in Boljanić village near Doboj, where second improvised airport was built. During November and December 1944. from there the last American pilots and officers were evacuated from Yugoslavia. Among them were: chief of the last American mission at Yugoslav Royal Army – Robert McDowell, Captain Nick Lalich, who was coordinating rescue operation after evacuation of Musulin, and communications officer, Arthur Jibilian. They were the last Americans to be in contact with General Mihailović. After their evacuation General Mihailović was abandoned by Allies and every contact with him was lost.
"General Donovan in the report to president Roosevelt in October 1944. states that from the territory of Yugoslavia was saved 1088 pilots. Therefrom, Chetniks have saved 561, and Partisans 527 downed aviators."[15] This information speaks in favor of both resilience movements in Yugoslavia and their support for the Allies and contribution in fighting against the Fascism and Nazism in Europe. Yugoslavia has, by missions like this, proved its friendship towards the USA and lay the foundations for future cooperation.
Saving of American aviators was one of main reasons for posthumous decoration which General and Ministry of War of Kingdom of Yugoslavia – Dragoljub Mihailović received from the American President Harry Truman in 1948. Legion of Merit is the highest decoration that the US president may award to the foreign citizen, and that was the way of gratitude of US for the General Mihailović for his sincere fight on the side of Allies. In gratitude for his bravery and recognition of his role in saving American pilots in 1985 American Congress has approved erection of monument to Dragoljub Mihailović in Washington, capital of the US.[16]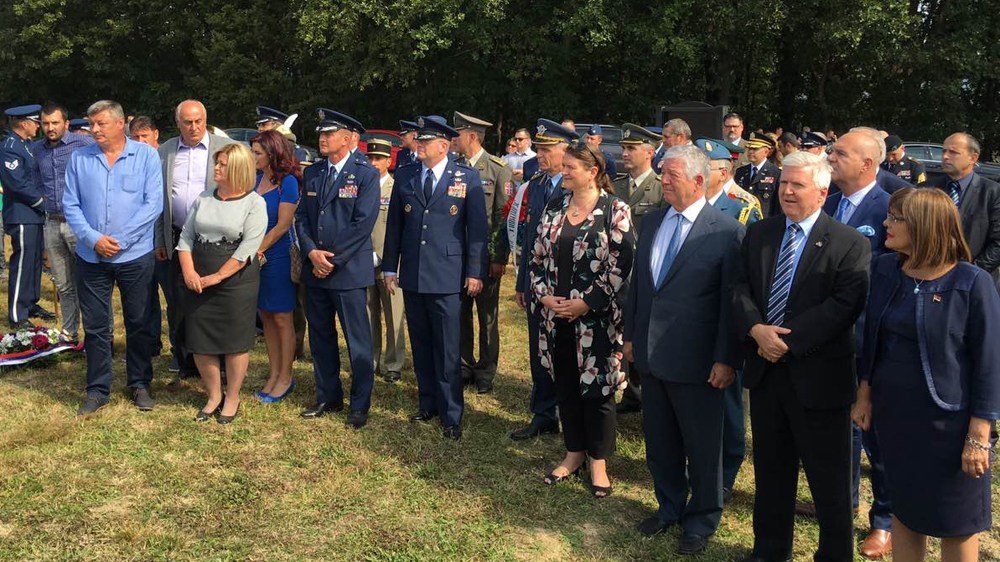 Republic of Serbia and US Embassy organize laying wreaths on 7 memorial plaques erected in honor of the Halyard mission every year in Pranjani. Actions like this stay remembered as evidence of eternal friendship of Serbian and American people.
This text was originally published in Serbian on a specialized web-portal "Our Story – Serbo-American Relations Through Centuries": www.nasa-prica.rs
---
[2] Мирослав Самарџић, Дража и општа историја четничког покрета – дванаести том, УНА ПРЕС, Београд, 2008, p. 7.
[4] Ђорђе Ристић, Спасавање савезничких пилота од стране Југословенске војске у отаџбини у Другом светском рату, University of Belgrade, Faculty of Political Sciences, Master's Thesis, Belgrade, 2018, p. 21.
[7] Бојан Димитријевић, Коста Николић, Ђенерал Михаиловић – биографија, Институт за савремену историју, Београд, 2004, p. 425
[8] Звонимир Вучковић, Од отпора – до грађанског рата, друга књига СЕЋАЊА ИЗ РАТА, Издавачко предузеће ''Чича'' , Београд, 1990, pp. 108-109
[9] Lt. Com. Richard M. Kelly, USNR, The Halyard Mission, The Story of the Greatest Rescue of American Lives from Behind Enemy Lines in the History of Warfare, Blue Book Magazine, Vol 83, No. 4, August 1946, p. 3
[10] Lt. Com. Richard M. Kelly, USNR, The Halyard Mission, The Story of the Greatest Rescue of American Lives from Behind Enemy Lines in the History of Warfare, Blue Book Magazine, Vol 83, No. 4, August 1946, pp. 55-62
[11] Lt. Com. Richard M. Kelly, USNR, The Halyard Mission, The Story of the Greatest Rescue of American Lives from Behind Enemy Lines in the History of Warfare, Blue Book Magazine, Vol 83, No. 4, August 1946 pp. 52-62
[14] Звонимир Вучковић, Од отпора – до грађанског рата, друга књига СЕЋАЊА ИЗ РАТА, Издавачко предузеће ''Чича'' , Београд, 1990, pp. 158-163
[15] Ђорђе Ристић, Спасавање савезничких пилота од стране Југословенске војске у отаџбини у Другом светском рату, Универзитет у Београду, Факултет политичких наука, Мастер рад, Београд, 2018, p. 28
[16] 99th Congress, 1st Session, H. R. 77, A Bill to authorize the National Committee of American Airmen Rescued by General Draza Mihailovich in Washington, District of Columbia, In the House of Representatives, January 3, 1985