Security Precaution or Adoption of the "Instant Visa" Regime - What Do New Measures for Entering the EU Suggest?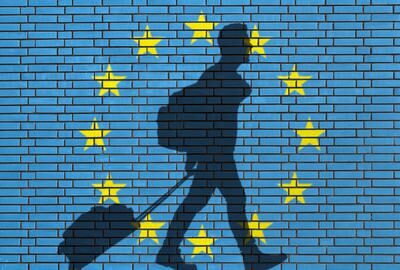 After years of development, Frontex, the European Border and Coast Guard Agency, announced that the European Travel Authorisation and Information System (ETAIS) is expected to become fully operational by the end of 2022. As a notable change from previous practice, this system will require travellers (who have so far benefited from the visa-exemption Schengen regime) to apply for a travel permit via the ETIAS. As such it will apply to those traveling to the Schengen Area and non-Schengen EU member states (i.e. Bulgaria, Croatia, Cyprus, and Romania). Consequentially, it is estimated that it will affect around 1.4 billion people from over 60 countries around the world who currently benefit from the visa-exemption system. Even though the Commission claims that this regime should not be equated to a visa system, the sole idea that one should pre-apply and pay a fee, in the eyes of many sure seems like one.
It is therefore warranted to examine whether and to what extent this negatively impacts the ongoing relations between the EU and the WB. It could be argued that such transition into a regime where travellers from the WB who enjoyed years of visa-free travel would see this as a deterioration of their rights and benefits they receive as citizens of countries who are in accession. Moreover, such action could pose the following question – is this a halt in the accession process and will it contribute to the rise of Euroscepticism in the region?
How will ETIAS work?
While not a new idea, ETIAS aims to lessen security threats, reduce health and migration risks, while making the travel into the EU more regulated and safer. This system will only be applicable to travellers aged 18 to 70 who intend to travel into the EU. The process is said to be very easy, fast, and simple, not taking longer than ten minutes. The process would go as following:
Step 1. A traveller will need to fill out an online application where personal data, travel documentation and several background questions (e.g. criminal and other records one might possess) are collected.
Step 2. Then, the traveller pays an application fee of seven euros. ETIAS then processes the application automatically against databases such as Europol, SIS and VIS.
Step 3. As the last step of the process, ETIAS sends their response to the applicants either granting the authorisation or denying it with a justification of the refusal. If granted, the authorisation is valid for three years, allowing each stay up to 90 days.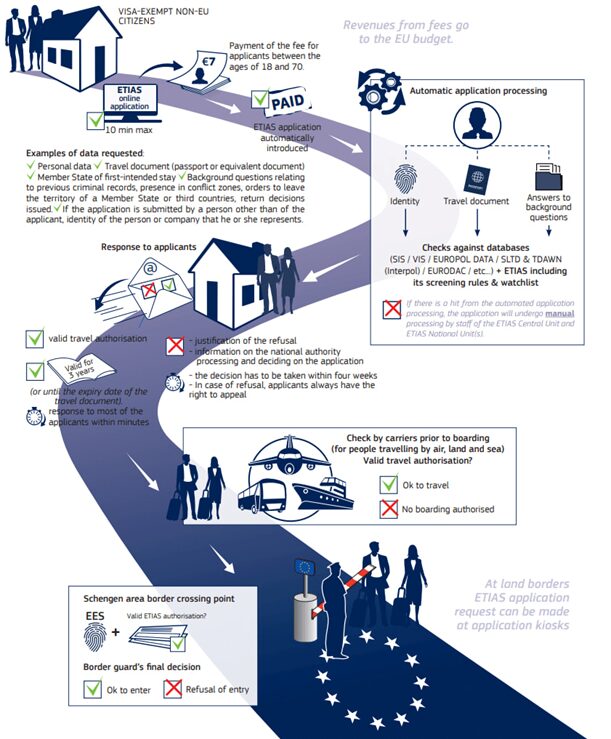 Interestingly, with this permission, once one enters the country he or she listed as his or her first destination, the person will be able to visit all other EU countries without needing further authorisations. The European Commission has allowed itself a time period of four weeks for approval of ETIAS, while stating that 97% of applications will then be approved within 96 hours.
Why is it being implemented and what does it mean for the WB?
As previously mentioned, the main idea behind ETIAS is to tighten security within the Schengen countries. However, other than that, the EU has other, possibly more important incentives to set up this program. Financially, the induction of a compulsory ETIAS would produce an enhancement of the Union's budget, with the Commission estimating a revenue for 2023 as much as €200 million. With this amount of incoming funds, the EU could surely continue investing into its own development, while simultaneously boosting their economy, security, and stability. While this could be considered as a marginal, sort of insignificant inflow of funds, it would surely aid the Union in its ongoing processes and assist in the recovery from the pandemic.
Other than financial incentives, the issue at hand is following – citizens from countries in accession are being considered in the same manner as travellers from other countries who are not midst this process. The visa liberalisation for Serbia which occurred in 2009, has certainly impacted and accelerated the process of EU integration of this country. It was seen as an act of good will and as a carrot of accession which diminished the looming Euroscepticism present at the time which public perception surveys show. However, now, as Euroscepticism is yet again on the rise, this decision to establish ETIAS does not aid in diminishing these present sentiments. Even though the EU continuously mentions enlargement to the WB as a priority (eg. Brdo declaration), ETIAS could be depicted as the contrary. It could lead the people of the WB questioning whether EU enlargement is just a declaratory priority and not an actual, strategic one. Above all, it could possibly lead citizens of Serbia and the WB into thinking that they are in fact isolated from the Union and that, regardless of the hard work their countries have put in to align with the acquis, they could be seen as unequal to the citizens of the EU.
To alleviate such sentiments, one of the solutions or changes that could be introduced into the ETIAS system is that countries in accession still enjoy their visa-free Schengen regime. By doing so, the EU would demonstrate people of the WB as a part of the Union. Therefore, an approach to this "instant visa" regime where countries in accession do not need to apply and still enjoy the free movement principle that was introduced in 2009, could be seen as a solution to this questionable decision.
It is still to early to come to any conclusion whether this whole process will contribute to the rise of Euroscepticism, in Serbia specifically, as the system has not started functioning yet and many people are unaware of its existence. Moreover, one could not conclude whether this is a demonstration of the halt in the EU accession process primarily since this action is not only directed towards Serbia and the WB. Moreover, as there have been clear advancements in other areas, such as the opening of Cluster 4 and some positive comments in the yearly Commission's report, the process of accession has clearly not stopped and has developed further.
---
Lola Paunović - Guest Author
Lola obtained her Bachelor's degrees in Sociology and in International Studies at the University of North Carolina Wilmington (UNCW), USA and her Master's degree (M.Sc.) from KU Leuven in International Politics focusing on migration politics and policy. During her studies, she volunteered and engaged in youth activism, through which she gained interest in youth politics. She is an alumna of the fourth generation of the Academy of Youth Politics, which she completed as a recipient of a scholarship provided by the National Youth Council of Serbia (KOMS). Currently, she holds a position in the Advisory Council on Youth of the Government of the Republic of Serbia where she advocates for a greater inclusion of youth in policy-making processes and for European fundamental values of freedom, democracy, equality, and the rule of law. Combining her passions for sports and environment, she practices plogging and trail running. Currently employed at the European Policy Centre (CEP) in Belgrade as a Junior researcher.

No comments
Leave a reply