Double Effect Doctrine in the Case of NATO Aggression on FR Yugoslavia in 1999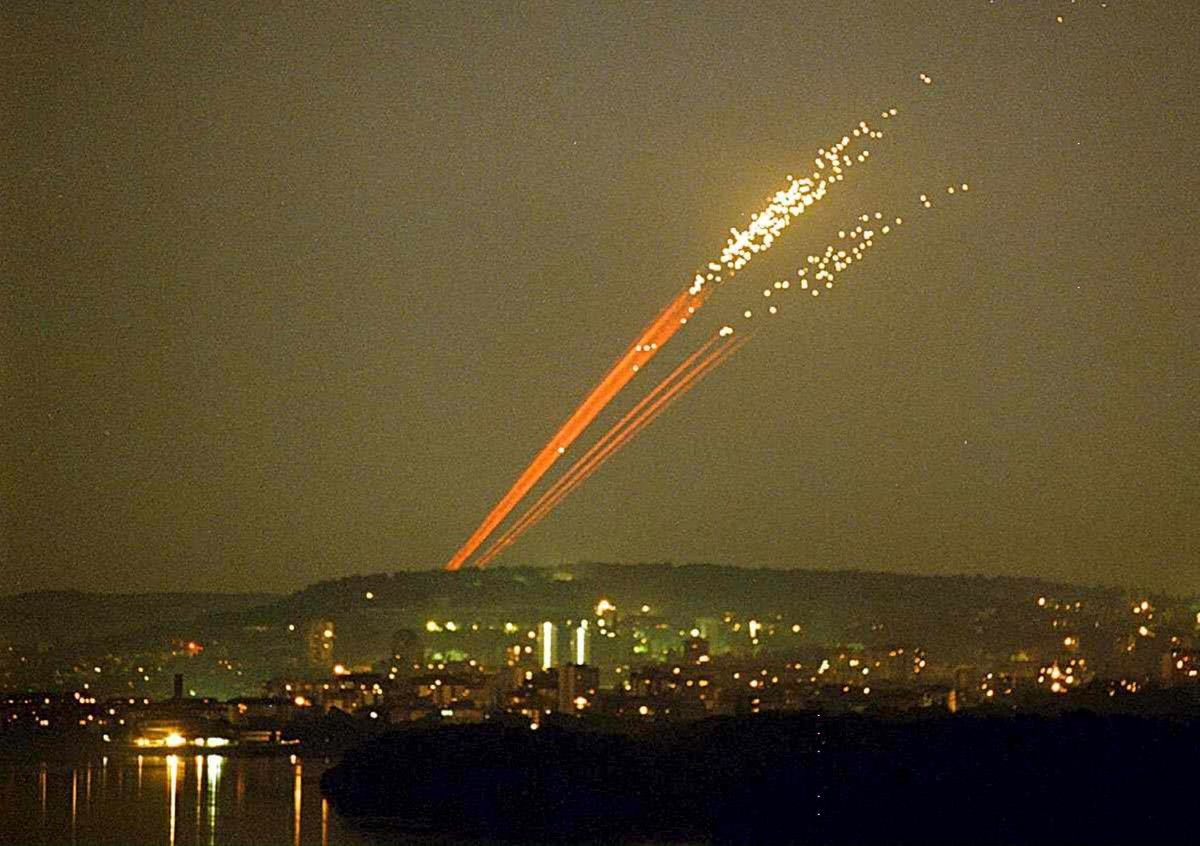 Photo: Anti-Aircraft Missiles Over Belgrade
War and all other armed conflicts in most cases inevitably mean civilian casualties. Although killing civilians in war is prohibited by the rules of war, including international humanitarian law, Geneva Convention and other international treaties. However, civil casualties are almost always present. Notwithstanding, in some cases killing of civilians may be justified, that's what the Doctrine of Double Effect is about.
The principle of Double Effect is frequently referred in order to explain permissibility of serious harm or death of a human being as a side effect of fulfilling war objectives. According to the principle of double effect, sometimes it is permissible to cause a harm as a side effect (or "double effect") of bringing about a good result even though it would not be permissible to cause such a harm as a means to bringing about the same good end.[1]
First author who introduces the principle of double effect was Toma Aquinas in his discussion of the permissibility of self-defense.[2] Medieval catholic political thought in The New Catholic Encyclopedia envisages four prerequisites for the application of the principle of double effect:
1.

The act itself must be morally good or at least indifferent;

2.

The agent may not positively will the bad effect but may permit it. If he could attain the good effect without the bad effect he should do so. The bad effect is sometimes said to be indirectly voluntary;

3.

The good effect must flow from the action at least as immediately (in the order of causality, though not necessarily in the order of time) as the bad effect. In other words the good effect must be produced directly by the action, not by the bad effect. Otherwise the agent would be using a bad means to a good end, which is never allowed;

4.

The good effect must be sufficiently desirable to compensate for the allowing of the bad effect.

[

3]
Finally, there is a fifth requirement for the principle of double doctrine, and that is that agents strive to minimize the foreseen harm.[4] "Michael Walzer has convincingly argued that agents who cause harm as a foreseen side effect of promoting a good end must be willing to accept additional risk or to forego some benefit in order to minimize how much harm they cause."[5]
When it comes to the NATO bombing of Yugoslavia in 1999, it was under the pretext of human rights violations and preventing a humanitarian catastrophe. Thirteen NATO member states have attacked Yugoslavia in March by bombing which lasted until June in an operation called "Allied Force".[6] During the arial bombardment several civilian objects were shot, including civilian maternity hospital in Belgrade, civilian train, civilian convoy, TV station and market place. NATO officials marked more than 500 civilian casualties as a "collateral damage". "Collateral damage" is the term used to mark civil casualties which arises from the Doctrine of Double Effect.
This text will analyze three different cases of military actions in FR Yugoslavia. The first one is the bombardment of maternity hospital in Belgrade. On 20th May 1999. Around 5 AM, NATO aviation has bombed maternity hospital Dr. Dragiša Mišović, killing 3 patients and 1 worker, numerous injured. "Two women in the process of giving birth and one new born baby are reported wounded".[7] According to the official NATO statement, target of the bombing was not the hospital but military barracks nearby. "NATO confirmed that one of eight laser-guided bombs intended for a military barracks in the predawn attack overshot its target by 500 yards".[8] There are several military objects in Dedinje, part of Belgrade where the hospital was, including Military Academy and several barracks. However, these objects did not have anti-aircraft weapons nor any weapon which would endanger NATO. Therefore, if we apply the principle of proportionality on this case, the results are as follows. Zero killed soldiers, zero military objects destroyed, 4 civilians killed and 1 civilian object hit. Even if military barrack were hit together with hospital, it would be questionable whether the principle of proportionality was fulfilled. Hospital clearly was not a military target, and though NATO has not hit any military target nor gain any military advantage by this bombing, it cannot be justified under the Doctrine of Double Effect.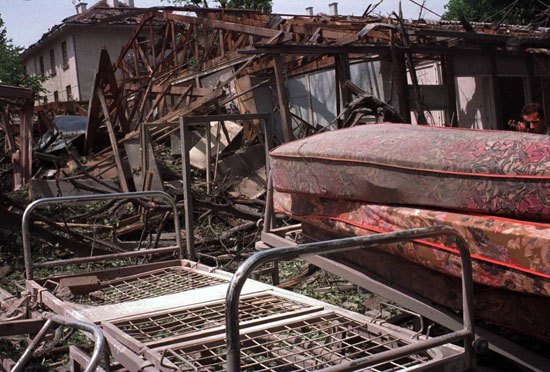 Picture: Destroyed wing of Dragiša Mišović' hospital


Second case which is going to be analyzed is the bombing of the civilian train on the bridge in Grdelica gorge, southern Serbia, on 12
th
April 1999. During April, the focus of NATO campaign has shifted from military objects to strategic and economic targets, especially bridges.
On a daylight, at 11:40 AM, a civilian train has been hit with two missiles on the bridge over the South Morava river, in attack in which 10 civilians were found dead and 16 injured.
[9]
The question is why NATO decided to bomb the bridge while the civilian train was on it? Did they know that there would be the train and that it was a civilian one? According to NATO reports, the train was standing on the bridge when it was hit. However, on the footage available on YouTube
[10]
, it can be seen that the train was hit as it was moving.
NATO acknowledged it had targeted a "rail bridge it considered an important military supply line and said there were reports that a train was on or near the bridge at the time of the attack".
[11]
So, now the question is, if NATO knew there is a (civilian) train on the bridge, or approaching it, why they decided to bomb it at that very moment? Even if this bridge was used as an important line for military supply and was considered as a legitimate military target, bombardment of the bridge at the moment when civilian train is approaching it did not consider a concern for the lives of civilians. If command decided to bomb the bride just few minutes earlier or later, this is not a very busy bridge, it is not like there are trains going over it every minute, they would have fulfilled military objective without killing the civilians. Taken into account everything said by now, it cannot be said that killing these civilians was indispensable and impossible to avoid in order to gain military advantage. Therefore, one can conclude that neither in this case the Doctrine of Double Effect cannot be justified. However, one think can be added here, and that is that Yugoslav military has used civilian trains to transport military personnel to the Kosovo province prior to the bombing campaign. If NATO had serious doubt or reasonable suspicion that military personnel, weapons or supply were on that train, killing 10 and wounding 16 civilians could have been justified under the Double Effect Doctrine. However, NATO never stated, in regards to this attack, that they had a suspicion that the train was used for any military purpose, and it wasn't.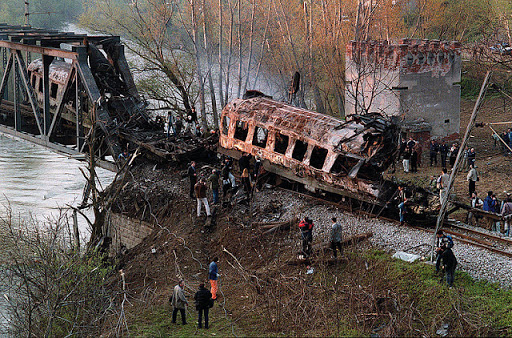 Picture: Grdelica Bridge
Finally, third case that will be observed in this paper is the bombing of the national TV station – Radio Television of Serbia (RTS) on April 23, 1999. At the moment of attack around 150 people was in the building, 10 were killed and 18 injured as a consequence of bombing.[12] Two main reasons were used for bombing the TV station, first, the Radio Television of Serbia station's operations had a military component and the goal was to cut off the communication. Second, it was responsible for broadcasting pro-Serb propaganda which was guilty of prolonging the war, according to the UK's Ministry of Defense, Clare Short.[13] When it comes to the first reason, cutting off the communications, because TV towers were used by military, principle of Double Effect Doctrine might be applicable, however, stopping propaganda is not sufficient reason to kill 10 civilians and risk killing 150. Nevertheless, if we take into account the first reason (cutting off the communication used in military purpose) was the main reason behind the bombing, and by this stopping the enemy in inflicting casualties, in that case the Double Effect Doctrine may be applicable.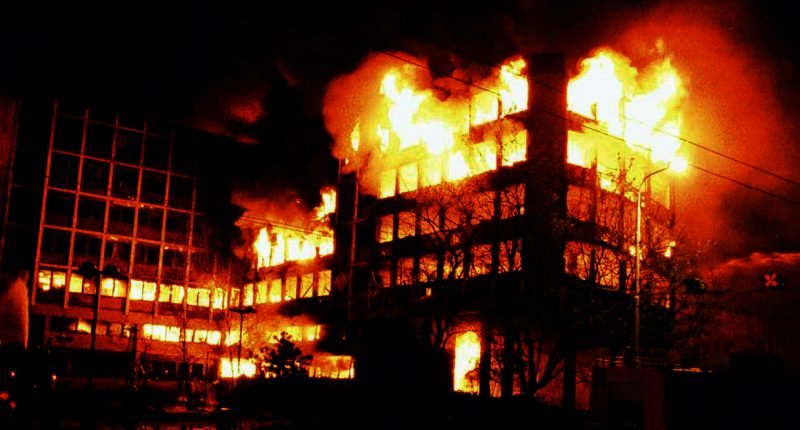 Picture: The Building of RTS in Flames
We have seen three examples in which civil casualties occurred as a result of military actions. Only one of them can be justified under the Doctrine of Double Effect. However, we are witnessing a lot of "collateral casualties" in modern warfare. Usually, very small number of them can be justified. War is per se hideous thing, and civilians deserve a better protection. In general, humanitarian interventions are often disputed, and NATO aggression on FR Yugoslavia was a mix of reasons among which one was geopolitical goals. One should have in mind when it commes to 1999. conflict.
---
No comments
Leave a reply